Heritage Walk in Ajni throws light on coexistence of ecology and humans.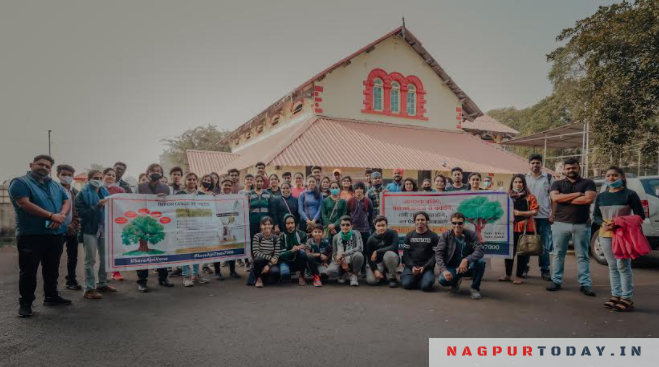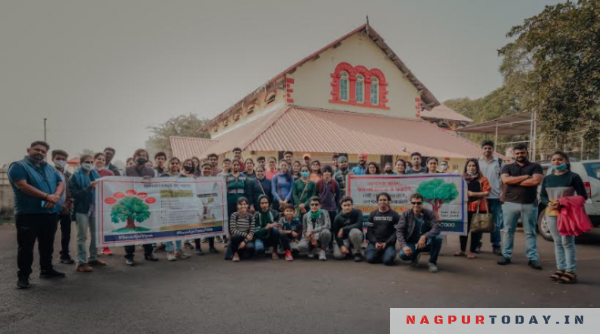 Nagpur: Sunday saw a unique Heritage walk organised by citizens at Ajni Vann area. Around 100 young and old citizens of Nagpur participated in a Walk which showcased the heritage of Ajni colony built over a century ago. Conservation Architect Mr. Sandeep Pathe, who has researched immensely on the area enlightened the curious citizens about the features of the area. In a walk lasting about 2 hours in the morning, people were informed about the uniqueness of structures at Ajni amidst the chirping of various species of birds who have made the area filled with trees their homes.
It was interesting to note and see the original railway station number 1 at Ajni which was built around 1880 circa almost 30 years before Nagpur main railway station was created. Ajni was the central point of what was then the Bengal Nagpur Railway.
The colony is a living example of excellent Neighborhood planning having ample space for green pockets, houses with fore and background spaces, schools and highschools, places of workship, Gardens, Playgrounds, Technical Railway workshops, roads which are pedestrian and cycle friendly even today. The Quarters were planned correct and has taken all context specific stretaegies which respond to the Ajni as a context.
In its older time Quarters were connected to conservancy lanes and it had a proficient management system of solid waste also the garbage and other waste was disposed from a far corner of Quarter.
The Quarters are not just houses but narrates a saga of a micro civilization in itself, where people employeed at railways lived a healthy lifestyle and the neighborhood symbolises an appropriate example of how playgrounds, gardens, built structures such as schools & houses & places of workship act in cohesion to formulate an unique style of architecture that qualifies to entitle as 'The Railway Architecture of Nagpur' and which is relevant even today.
Thus neighbourhood along with streets gardens & playground forms a Significant place in the historic timeline of Nagpur.
What is important to is that even during those times the planners kept in mind the environment aspects before construction. For example adequate spaces were left for trees which were planted and is seen in form of huge entities supporting the numerous bird lives till date. The trees also gave shade regulating the temperatures of the hot summers of Central India. Special places were earmarked for disposal of solid waste which was situated at one corner of the colony. Hospital was built symbolic of Gond architecture. Drainage created 100 years ago still prevents water from accumulating during rains in Ajni while rest of Nagpur has seen waterlogging increasing day by day.
Proper planning of development always has space for nature and environment. Citizens visiting opined the fact that these days there seemed to be a paralysis of planning as always a decision is taken first and then the authorities run helter skelter to implement the desicion without any consideration for nature. The heritage walk at Ajni highlighted the fact that it was now very important to protect the last remaining vestiges of green as well as cultural heritage which is under tremendous pressure of being sacrificed in the name of infrastructure projects. Organisers and citizens are demanding the relocation of IMS Ajni project to Khapri or any other alternative site to save this rich heritage.