Gang duping job aspirants busted in Nagpur, 2 arrested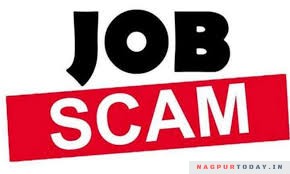 Nagpur: Two members of a gang that had allegedly duped job seekers on the pretest of getting them jobs in prominent government institutions were arrested from Beltarodi, police said on Friday.
Accused identified as Akshay Ashokkumar Agrawal (30), a resident of Flat No. 101,17 Rachit Apartments, Beltarodi, Himanshi Prakash Bhagwani (25), a resident of Flat No. 301, Siddharth Apartment, Rajeshree Nagar, Beltarodi, along with Vayviaas Shyamsundar, Naina Chelwali and Gaurav Kshirsagar, all working at Crest Technology have duped several job aspirants using fake job letters, government letterheads, pamphlets and siphoned cash collectively of Rs 35,48,000.
Following the complaint lodged by one Nikhil Mahendra Sahare (24), a resident of Khaparkheda 9.5 lakh, cops managed to arrest Agrawal and Bhagwani.
Cops predict many job seekers have fallen prey to the misdeeds of the accused and urged citizens to approach Beltarodi police with complaints in this regard.