E-exhibition on Mahatma Gandhi inaugurated at Raman Science Centre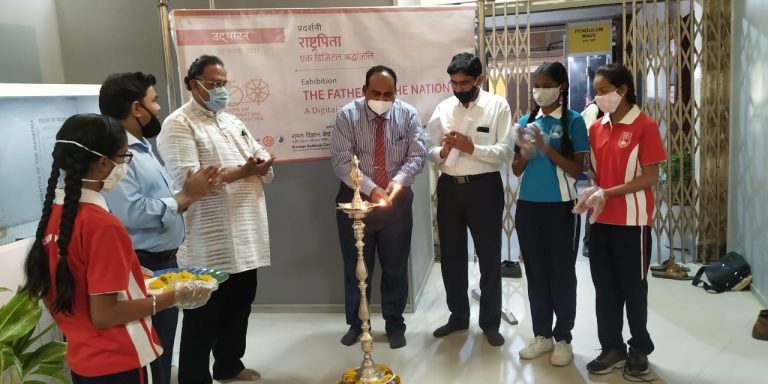 Nagpur: Union Ministry of Culture and Department of Science and Technology in association with National Council of Science Museums and Vigyan Prasar inaugurated 'A digital tribute to Father of the Nation' on Saturday at Raman Science Centre. Amitabh Pawade, former Executive Engineer, Airport Authority of India, inaugurated the exhibition on the occasion of the death anniversary of Mahatma Gandhi. Dr, Anand Manjarkhede, Director, Green Earth Foundation, Vilas Chaudhary, Education officer and Manoj Kumar Panda, Project Coordinator were prominently present on this occasion. Students of the Pandit Bacharaj Vyas, Vidyalaya were invited for the inauguration.
In all 17 sets of this exhibition have been developed and Raman Science Centre is hosting one of these. Union Ministry of Culture, through Gandhi Smriti and Darshan Samiti, Gandhi Museum, Nehru Memorial Museum & Library, National Archives of India, and other institutions has digitally documented photographs, images, documents, letters, video documentaries etc on Gandhi and most of these have also been digitised.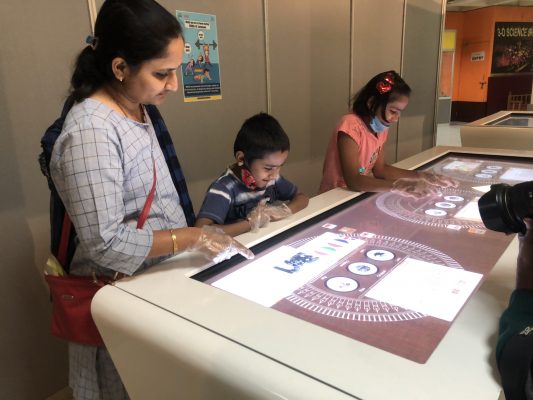 The Ministry of Culture and Department of Science and Technology harvested the vast amount of digital content available with various institutions and joined hands to create this digital exhibition. The digital tribute exhibition uses smart interface for multi user engagement, smart surface technology, virtual holographic display, transparent display to portray Gandhi's visions, his life and his transformation from Mohandas to Mahatma.
The exhibition uses some of the rare archival material and presents storyline like freedom movement led by Mahatma Gandhi, his chronicles, travels, Satyagraha, his thoughts etc. Also, it highlights Gandhi's association with world leaders and speaks of those who influenced and inspired him and leaders who he inspired. A series of videos on bhajan 'Vaishnava Jan Te' is included in the exhibition. The exhibition will remain open for visitors from 9.30 am to 6 pm every day.