Delhi Police gears up for tractor parade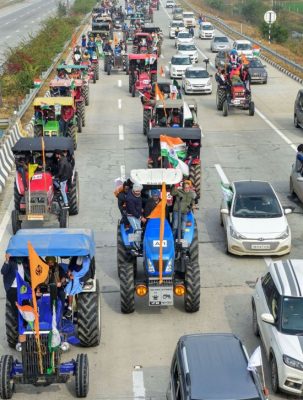 As hundreds headed to Delhi from neighbouring states for the farmers' tractor parade on the Republic Day, the Delhi Police said it is making tight security arrangements due to inputs about possible attempts to disrupt the rally while Haryana authorities advised people to avoid travelling to the national capital.
Deependra Pathak, Special Commissioner of Police (Intelligence), claimed that over 300 Twitter handles have been generated from Pakistan to disrupt the tractor parade.
In a circular, Delhi Police Commissioner S N Srivastava directed that all officers and personnel, as well as Central Armed Police Forces and others, posted for the Republic Day Parade security arrangements should be prepared for an extended deployment to maintain law and order in the wake of the tractor parade.
While police tried to convince farmer leaders to hold their tractor parade outside the national capital, they were adamant about holding it on Delhi's busy Outer Ring Road.
An agreement was reached during the fourth round of talks on Friday.
On Sunday, police said the farmers' proposed tractor rally will start after the time period of the Republic Day celebration has ended.
The rally will be held from Delhi's three border points — Singhu, Tikri and Ghazipur — and adequate security will be provided to it, police said.