Delhi police detain Priyanka Gandhi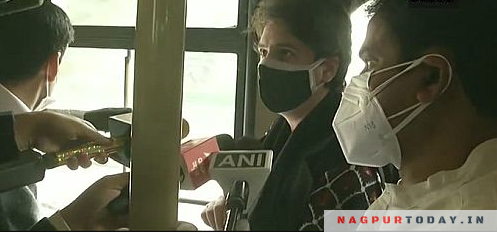 New Delhi: Delhi Police take Priyanka Gandhi and other Congress leaders into custody. "Sometimes they say we are so weak that we don't qualify as Opposition and sometimes, they say that we are so powerful that we have made lakhs of farmers camp at the border (of Delhi) for a month. They should first decide what we are," Congress leader Priyanka Gandhi, said.
"It is a sin to use the kind of names they (BJP leaders & supporters) used for farmers. If the government is calling them anti-nationals, then the govt is a sinner."
No permission has been granted for Congress' march to Rashtrapati Bhavan today, and only three leaders, who have appointments will be allowed to go there, said Delhi Police on Thursday.
Rahul and Priyanka Gandhi are leading Congress MPs' protest march today from Vijay Chowk to Rashtrapati Bhavan to submit a memorandum containing 2 crore signatures to President Ram Nath Kovind seeking his intervention over farmers' protest.