Deep in Tadoba forest how did this tiger cub get black plastic?
All NTCA rules being flouted in Buffer zones

Tadoba/Nagpur: Many visitors doing a Safari ride of Tadoba last week were shocked to find three tiger cubs playing with a discarded black garbage bag deep inside the forest. The six jeeps on an afternoon safari thought they had hit a Jackpot when one after another, all three cubs of Tigress named Junabai came out in the open to play around a small water body. Unmindful of the gawking human audience the almost full grown cubs were frolicking in the water, swimming, splashing water on each other, arm wrestling and even playing a feline version of Hide and Seek! Then suddenly one of them picked up a plastic bag and was obviously entertained by the squishing sounds it was making. The other two joined him in the game and they played with this new toy for quite a while.
Where did the plastic bag come from inside the forest?
Granted we were deep inside the buffer zone of TATR, but still it wasn't anywhere near human habitation. Even the resorts were far away. (There is just one resort Saswara near the Kollara gate, and even that was quite a distance away). So either it came from the guard cottages that are dotted inside the forest, or more likely scenario, brought in by tourists themselves to carry food, clothing etc.
Breakfast packed for morning safari tourists :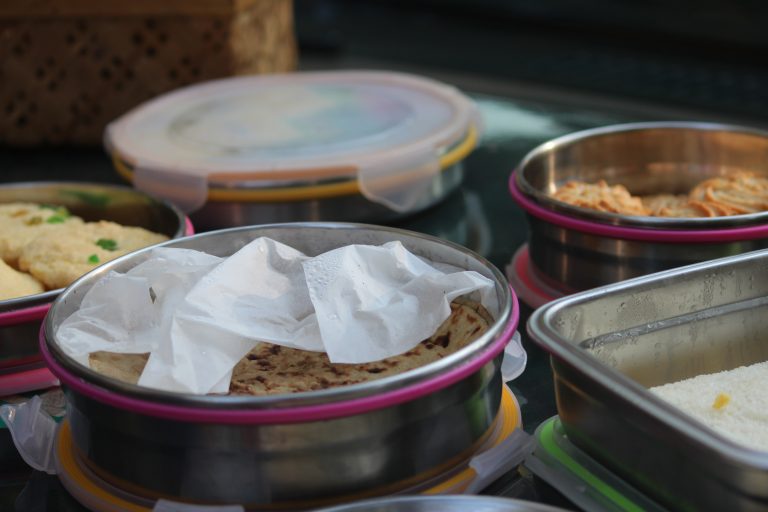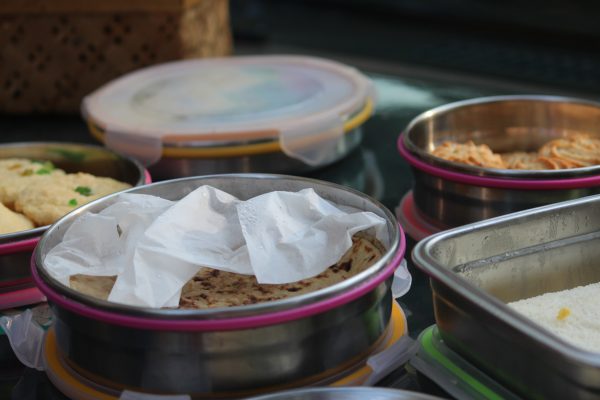 Point to note is that most if not all resorts pack breakfasts for visitors when they leave for morning safaris at 6 a.m. Safaris get over at 10 a.m. but for some reason it is considered ' too late for breakfast'! So stuff like aloo parathas, sandwiches, boiled eggs, cup cakes, cookies etc. are packed in hampers along with thermos flasks containing tea and coffee. A few resort managers are very conscious Like Ranjeet Mondal about how food is packed.
We give no plastic, says Ranjeet G.M. of Svasara "We are very careful not to include anything in our packed breakfasts which doesn't end up as waste in the jungle. We don't even give packaged water in plastic bottles, instead we give RO water packed in steel bottles. To parcel food we give reusable containers, even steel cups for tea! We don't use plastic bottles even in our rooms. If someone insists on commercial filter bottled water we charge heavily for it; not to make profit but to discourage its use! There is strict supervision of food being cooked, packed, taken to jeeps and even waste brought back. At the most it is banana peels!" But obviously others are not so scrupulous. We found many paper cups trashed on the road where people stop for breakfast sharing it with their guides, drivers and other forest staff.
"People will not like being frisked" When the undersigned asked Tadoba Field Director Jeetendra Ramgaokar, about why food was allowed inside in the first place and why stricter rules were not followed like checking things being carried inside he replied " visitors will be offended if they are frisked or questioned about what they are carrying inside." But he promised to take the plastic bag's presence very seriously.
No Social Distancing for tigers! Not from each other, but tigers, specially innocent cubs, need to be viewed from a safe distance by tourists. There are many guidelines for this mentioned in the NTCA ( National Tiger Conservation Authority) advisory which are seemingly completely flouted. The spot where we spotted the cubs was a flatland near a water body. Drivers of the Safari gypsies drove off the road parking their vehicles right next to the tiger. The distance mandated is 20 meters, as per Ramgaonkar, but these vehicles were hardly few feet away from the tigers. There was kind of competition among the six vehicles about who manages to get closer. Not just were the jeeps close to the tiger, they were surrounding him on 3 sides, the 4th side being the forest. Only our jeep was parked a little away at our driver's discretion.
"This behaviour flouts all rules laid out for tourists" observed Nitin Desai , Founder of NGO Wild life protection society of India.
Buffer area drivers and guides lack training: As opposed to Core area staff, it is apparent that buffer area personnel are ill trained and not supervised enough. Safaris to Core areas have to be booked months ahead as Tadoba guidelines allow only fixed numbers of jeeps to enter any gate for any given safari. This was leaving many tourists disappointed so some years ago buffer areas of the forest were also opened up for tourist safaris. A welcome move but why such lack of interest in training guides and drivers? During another safari, our driver, on being told about a tiger sighting at another had turned around and driven his vehicle at almost break neck speed to " catch up with the tiger". Which was unsafe for us, and unsafe for the tiger as well! As is the practise of being heedless about how close your vehicle gets to the tiger. Remember, it is a wild animal! And many jeeps contained small children whose actions could not be anticipated.
Tadoba is a success story, let's keep it that way! Tiger count of Maharashtra has gone up from 189 in 2014 to 312 in 2018, i.e. almost doubled. There are 160 tigers in Chandrapur area, 80 within TATR, 80 outside.
But unsafe practices can damage not just tigers but other wild life too. Recently a tiger in the Nilgris forests was found dead chocked on a piece of rubbish. Tigers being high up in the food chain, even garbage eaten by herbivores can end up poisoning tigers when they eat the deer or the sambhar.
My chat with the Field Director Ramgaonkar gave me the impression that he was quite concerned about tigers but also not antagonizing humans visiting his forests either. Mr. Ramgaonkar, it is alright to put wildlife strictly first in our National forests, because without them there would be no tourism, no resorts and no revenue that is ploughed back into preserving forests!
… Sunita Mudaliar Executive Editor, Nagpur Today
Pic by Nitin Sahasrabudhe.