Deadly attack on bar owner over issue of bill payment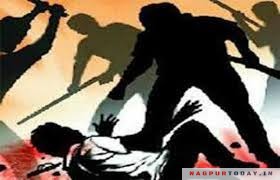 Nagpur : A young man and his accomplice attacked a bar owner as argument over the issue of bill payment worsened. He tried to kill him with a sharp weapon and smashed the counter. Police have registered a case against Arpit Bhavani Shankar Chaurasia (46), a resident of Tekdi Road, Buldi.
The accused include Himanshu alias Pinni Kanojia, 25, and his accomplice. According to police, the two accused had come to the Suvidha Bar and Restaurant on Residency Road, Sadar on Friday night to have a drink. After drinking, they asked for a bill. But as the waiter took the bill, Himanshu got into an argument with him.
Arpit asked both of them to pay the bill and leave the bar after same. Himanshu pulled out a knife and stabbed Arpit, who was sitting on the counter. But fortunately he managed to survive. Both the accused then smashed the liquor bottles kept in the counter. They also vandalized the counter and fled.
Arpit informed the police about the incident. Police have registered a case under various sections including attempted murder.