Create opportunities for graduates in Nagpur : Dipen to Wanjari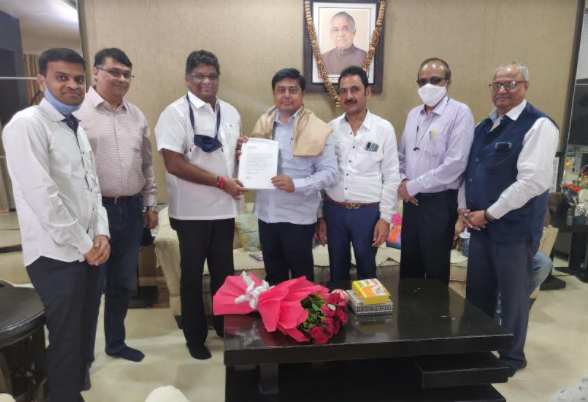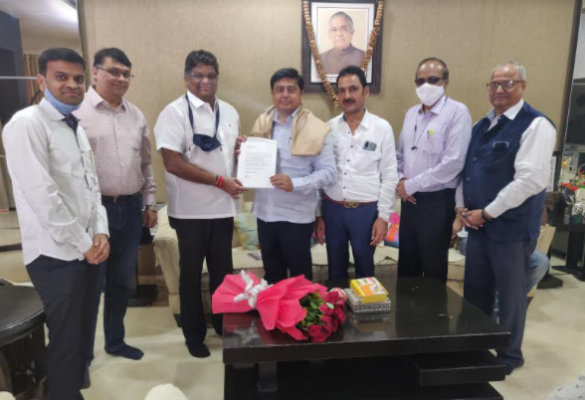 Delegation of Chamber of Association of Maharashtra Industry & Trade (CAMIT) led by President, Dipen Agrawal called upon Shri Abhijit Wanjarri to felicitate and congratulate him on being elected as Member of Legislative Council (MLC) from Nagpur Division Graduate Constituency.
On behalf of business community of state Dipen Agrawal felicitated Wanjarri with shawl, shreefhal, floral bouquet and presented a congratulatory letter on behalf of Executive Committee of CAMIT.
Dipen Agrawal, said that there is dearth of quality work in Nagpur for graduates from various fields. Moreover, the economic crisis caused due to the Covid-19 pandemic has made the situation much worse. Despite Nagpur becoming an education hub over the past few years with various renowned universities setting their campuses in the city, most graduates from Nagpur move to bigger cities like Mumbai, Delhi, Bengaluru, Hyderabad, etc. seeking work.
There is urgent need to create good job opportunities in Nagpur by encouraging setting up of industries here. This is necessary to ensure that the youth of Nagpur doesn't have to relocate merely due to lack of opportunities in the city, and can rather, work in Nagpur and aid in the economic development of the city, he added.
Abhijit Wanjarri accepting his felicitation said that people from every walk of life form part his constituency and he assured to work in tandem with trade & industry and Administration to develop morden infrastructure to support new entrepreneurs so as to enhance opportunity for graduates in this region.
Sarvashri Sanjay K. Agrawal, Dilip Thakaral, Ashok Ahuja, Dheeraj Maloo and Sharad Agrawal were prominently part of the delegation . Sanjay . K. Agrawal proposed vote of thanks on behalf of the delegation.