Citing mistake, farmer asked to return money paid under PM-Kisan Yojana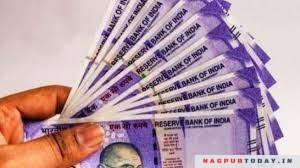 Nagpur: Some farmers in Wardha district seem to be in the dock as far as PM Kisan Samman Nidhi Yojana is concerned. Citing a mistake, the Selu Tahsildar in Wardha district has shot a letter to a farmer named Sudhakar Balkrishna Kitkaru asking him to return Rs 8000 that was deposited in his bank account inadvertently.
In his letter dated December 14, 2020, the Selu Tahsildar informed the farmer Kitkaru that you are ineligible for the benefit under PM Kisan Samman Nidhi Yojana. A total of Rs 8000 has been deposited in his SBI account (10103976673) as four installments of Rs 2000 each as beneficiary of PM-Kisan Yojana. The letter informed Kitkaru that the money was deposited in his bank account mistakenly as he was not eligible for the benefit. In the letter, the Selu Tahsildar has asked the farmer to return Rs 8000 within a week to Talathi or recovery action will be initiated against him.
Concealing their own blunders in the enrollment process of PM-Kisan Yojana, the Wardha Administration is seeking return of money from the farmers within a week. Interestingly, farmers had received the benefits in installments that too over the course of the last four-five months.
PM-KISAN was launched by the Centre in February last year to provide direct financial assistance to small and marginal farmers. Under the scheme, farmers who own not more than two hectares of cultivable land are entitled to a yearly grant of Rs 6,000. The amount shall be paid to farmers by way of direct bank transfer in three installments — four months apart.
However, farmers in Wardha districts have been served with notices from the administration asking them to return the aid they had received through installments to Talathi within a week or else the officials will extract the money from them.