Celebration of72nd Republic day at Gaikwad-Patil Group of Institutions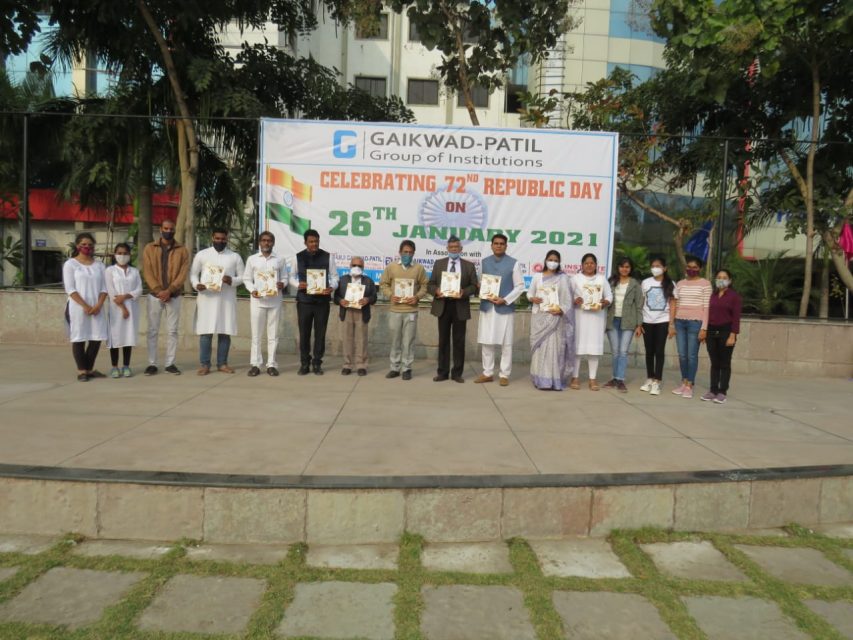 Gaikwad-Patil Group of Institutions Tulsiramji Gaikwad-Patil College of Engineering & Technology, Abha Gaikwad-Patil College of Engineering, Tulsiramji Gaikwad-Patil College of Architecture and Second Shift Polytechnic celebrated 72nd Republic day on 26th January 2021 in GPGI campus. The Chief Guest of the activity was hon'ble Dr. Ravi Wankhede, Medical Officer (Retd.), Indian Army and Air Force, hoisted the national flag followed by the National Anthem, sung by all the participants.
All the participants of the gathering followed the guidelines of COVID-19 given by Maharashtra Government. All attendees of the program wear mask, & maintained social distancing. Students also attended the program live via Face book and YouTube.
Hon'ble Chief Guest, he addressing the audience discussed about laws and rules organ transplantation in India. also he told the importance and need of organ transplantation.
Students performed various cultural activities to entertain guests. All the performances pay respect to our country's achievements and achievers like Indian classical dances, yoga performance, similar activities. It was followed by the prize distribution by the chief Guest.
All the dignitaries released TGPCA annual college Magazine "Skylight".
The "Skylight" is the TGPCA official annual magazine which aims to provide a record of the college activities & achievements of staff, students & alumni with inspiring articles of students. Hon'ble Chief Guest & dignitaries distributed Uniform to staff members of Gaikwad-Patil Group of Institutions & inaugurated Solar Energy and IOT application Lab in electrical engineering department of TGPET,Nagpur.
Dr. Mohan Gaikwad-Patil, Chairman, GPG, Prof. Sandeep Gaikwad, Treasurer, GPGI, Dr. S. S. Rathore, Principal, TGPCET,Dr. Geeta Padole-Gaikwad Director Admission, GPGI, Dr. Prashant Kadu, Director, IIIL, GPGI, & Principal of AGPCE, Mrs. Surekha Raut, Director Finance, GPGI, Mr. Mukul Pande, Director, IT and Infrastructure, GPGI, Prof. Pragati Patil, Vice-Principal, TGPCET, Prof. Vandana Khante Principal, TGPCA, Prof.Niteen Kakade, Dean, Polytechnic and staff of GPGI attended the program.