Union Minister, Gadkari unveils book 'Lockdown Madhla Maza Sobati' penned by Ajeet Parse.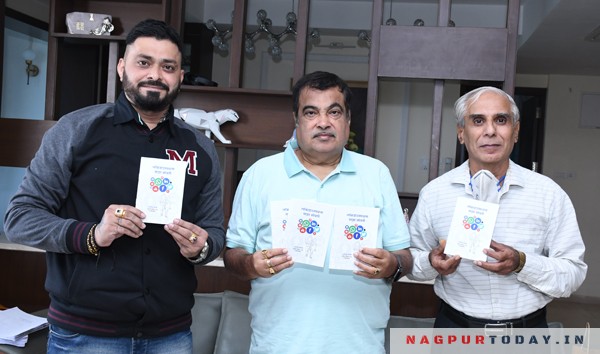 Nagpur: Union Minister, Nitin Gadkari on Friday unveiled the book 'Lockdown Madhla Maza Sobati' written by renowned Social Media Strategist & Analyst, Ajeet Parse. During the crisis of lockdown, social media not only maintained the hope of survival of the citizens, but also maintained the confidence of many. Parse, reflected these sentiments of the people on social media during the lockdown in his book.
The book was released at Gadkari's residence on Wardha Road. Researcher, Dr. Hemant Jambhekar and Ajeet Parse were prominently present on this occasion.
At the time of the lockdown, many were still at home, while some had relatives outside the country or city. Social media was a great way to bring family members back together. Whether it is a moment of threshold of a relationship or citizens applauding efforts of frontline warriors during a pandemic on social media, Parse highlighted various such issues in his book.

While only negative discussion on social media came forward during this drastic time, the book 'Lockdown Madhla Maza Sobati' describes how the positive use of social media benefited society during the pandemic. The emotional health of the society was positively maintained by social media during the Corona period, the technical analysis done by Parse showed.
"This is the first book to tie the knot of social media and lockdown. The positive side of social media, which is revolutionizing the field of communication, should be communicated to the people. The book 'Lockdown Madhla Maza Sobati' will be distributed free of cost to the readers for the benefit of his country and society," says Parse.