AAP activists observe one-day fast in solidarity with protesting farmers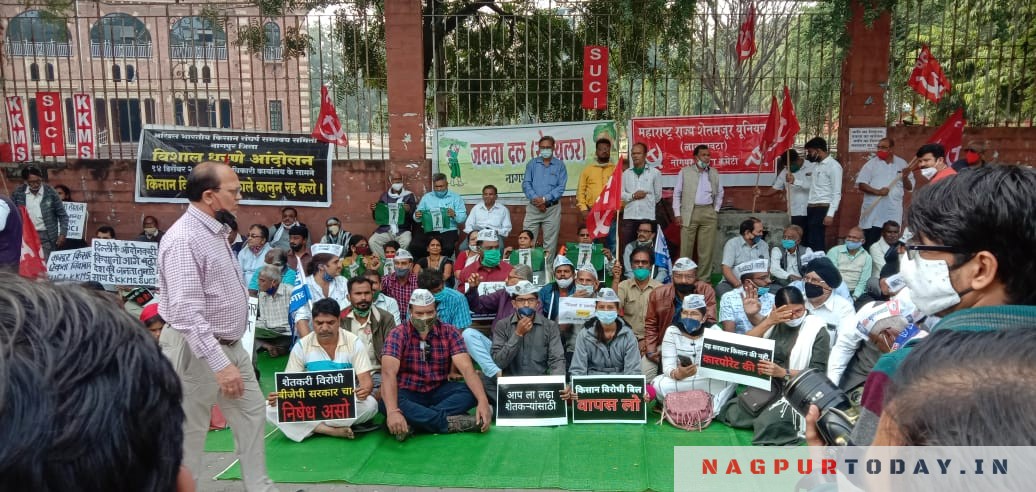 Nagpur: The agitation against the controversial Agriculture bills introduced by the Central Government is being conducted in the city too. Aam Admi Party activists on Monday, observe fast and agitated at Samvidhan Chowk protesting against the farm bills. Monday was the 17th day of the farmers' agitation on the Delhi border, but no decision was taken yet by the centre.
As a result the agitating farmers decided observe a one-day fast. In an act of solidarity, Delhi Chief Minister Arvind Kejriwal appealed to AAP activists across the country too to observe one-day fast. Responding to his appeal, AAP office bearers and activists across the country observed the fast and now 33 organisations from all over the country have come together to support this farmer movement.
Jagjit Singh, Ashok Mishra, Shankar Ingole, Bhushan Dhakulkar, Krital Velekar, Shahid Jaffrey, Ajay Dharme, Nikhil Medwade, Sanjay Singh, Pushpa Dabre, Piyush Akre, Hemant Bansod, Dilip Bidkar, Manoj Dafre, Vishwaji Meshram, Ravikni Bagh, Akshay Uike, Bharat Chaudhary, Suresh Kharke, Pradip Bawne, Atul Khode, Sandeep Shiv, Abdul Hafeez and other office bearers and activists took part in this fast cum agitation.