"Aane Se Uske Aaye Bahar….was Lovely Treat to Music Lovers…Dr. S S Uttarwar

In the lock down Sur Sargam has given a musical feast to all viewers. Viewers shower their comments on the Singers and organizers. Huge no comments and compliments was there to the show. Jayraj Markand and Surendra Sharma of Sursangam present soul full songs . Mr Amit Harkare was Chief guest for event. Dr. Sanjay Uttarwar a renowned Singer from Nagpur and Director of Sa Re Ga Ma Cultural Gp was present to witness the show.
Sur Sargam has organized " Aane Se Uske Aaye Bahar…. " A Online Musical Concert on google meet. It is unique program of Sursargam for journey of love Songs.
Versatile Singer Surendra Sharma, Jayraj Markand and others , are the artists who has performed .They both has planned this novel program. Show was=attended by majority of viewers from Maharashtra and Goa and around the globe .
Dr. Sanjay Uttarwar and other renowned people of Nagpurs musical world witness the program on line and extend their best wishes to Sur Sargam..
Following singers has performed these songs in the show.. Sunil Kathale- Pyar deewana hota hai. Jayashree Lule- Chura liya hai tumane jo dil ko. Pushkar Padhye- khawab ho tum ya. Neena Bagal- Aap jaisa koi mere Jindagi me aaye.Jairaj Markand- Kehana hai Kehana hai, aaj tumse ye…. Aarati Killedar- Bahot pyar karte hai. Dilip Rapate- Chand aahe bharega. Deepty Roy- Bahome Chale aao. Surendra Sharma- Aanese usake aaye bahar. Megha Padheya
O Sajana Barkha Bahar aayi. Prakash Khot- Ae husn jara jag tuze. Sanjay Patil- O hansini meri hansini. Sujata Patil Katto se khich ke ye Aachal. Manish Kamlaka O mere dil ke chan. Ram Dhande Dam dam diga diga. Amit Harkare Itni nazook na bano.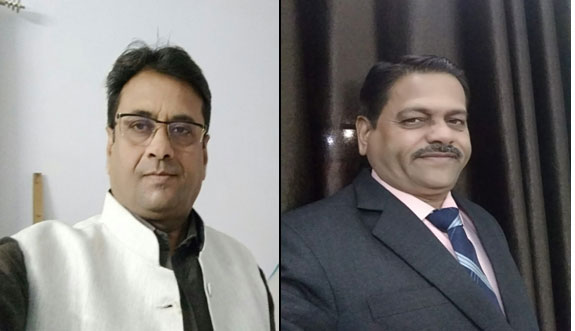 Dr. Sanjay Uttarwar encourages the singers, Organizers for live program in this crucial days of Corona kovid 19. He is having immense interest and contribution to the field of music. He is a renowned Academician , Principal, Social worker and singer of our city too. He is associated with various social and cultural bodies of Nagpur. At the beginning of program , Organizers welcome Mr. Amit Harkare Dr. Sanjay Uttarwar and other renowned people of Nagpurs musical world and all on line viewers for their support and encouragement.
In his reply to welcome , Dr. Sanjay Uttarwar gave thanks to Surendra Sharma, Jayraj Markand , for lovely organization and extend his good wishes for future of the them. He always encourage young talents for presenting their talents on various fronts.
Vijay Puranik , Nalini Chauhan, Sanjay Gawai, Mr Yoganand Bopche, Mr. Rakesh Bopche , Dr. Varsha , Nikita Madam, , , Pratima Mam, and many more music lovers has joined program. Anchor Surendra Sharma has done her job nicely. She elaborates the facts impressively and soulfully.
Program comes to end at 8 .30 pm and music lovers moves with euphoria of sweet songs.